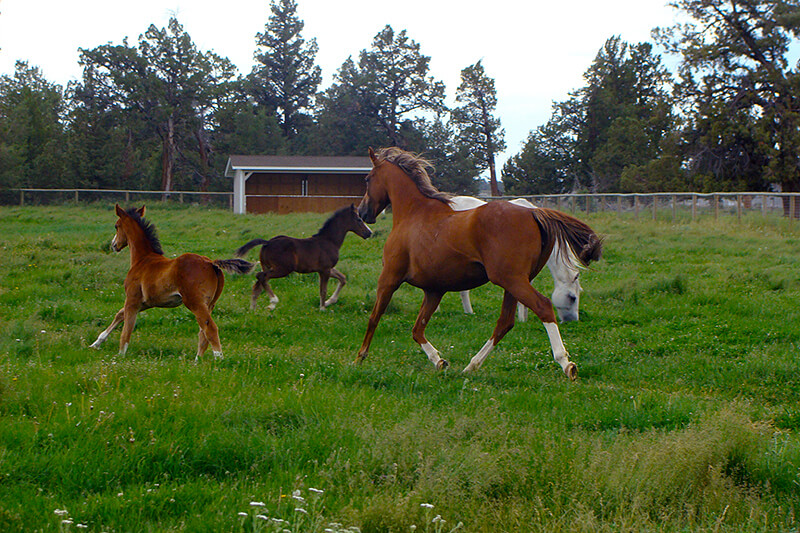 Boarding / Lay-Ups / Mare and Foal / Retirement
Windflower Farm is committed to providing compassionate, professional, personalized care for your riding horse, lay-up, broodmare and foal, or retiree.
Located just 15 miles East of Bend, our stable has a peaceful setting and a horse-friendly, open design with 7 12×12 stalls, 4 of which can be converted to 2 double stalls for broodmares with foals or horses needing extra space. Stalls have rubber floor mats and Double-Dutch doors that lead to spacious paddocks bedded with wood chips.
The grounds include 4 large irrigated pastures with loafing sheds. Heated Nelson auto-waterers are in all stalls and pastures. The property is fenced with safe, 4.5' woven wire horse fencing. Stable amenities include heated tack-room with warm water, toilet, and lounge area. 
(click arrows to view slides)
Riding options include our 130×130 groomed outdoor arena, COI forest out the back gate and the vast trail system of the Badlands Wilderness, which can be accessed via Reynold's pond, just a short ¼ mile ride down a quiet country road. Brasada's extensive Equine Event Facility, large indoor arena, and network of trails is only a 10 minute trailer-ride away.
Horse Boarding Professional
Windflower Farm Owner / Horse Trainer, Gigi Meyer, has been a professional trainer for over 30 years, spanning diverse equestrian disciplines – thoroughbred racehorses, polo ponies, reining horses, hunter/jumpers, gaited horses as well as remedial training and starting young horses.
$450/mo includes stall w/ paddock or dry-lot with shed and pasture turnout, hay as needed. Work/study options for a qualified intern are available. Foaling and Lay-up rates are based on needs and services. Veterinary referrals are available upon request.
WINDFLOWER FLOWER FARM | 26285 Walker Road | Bend, OR 97701
Content copyright 2021. WindflowerFarmBend.com. All rights reserved.