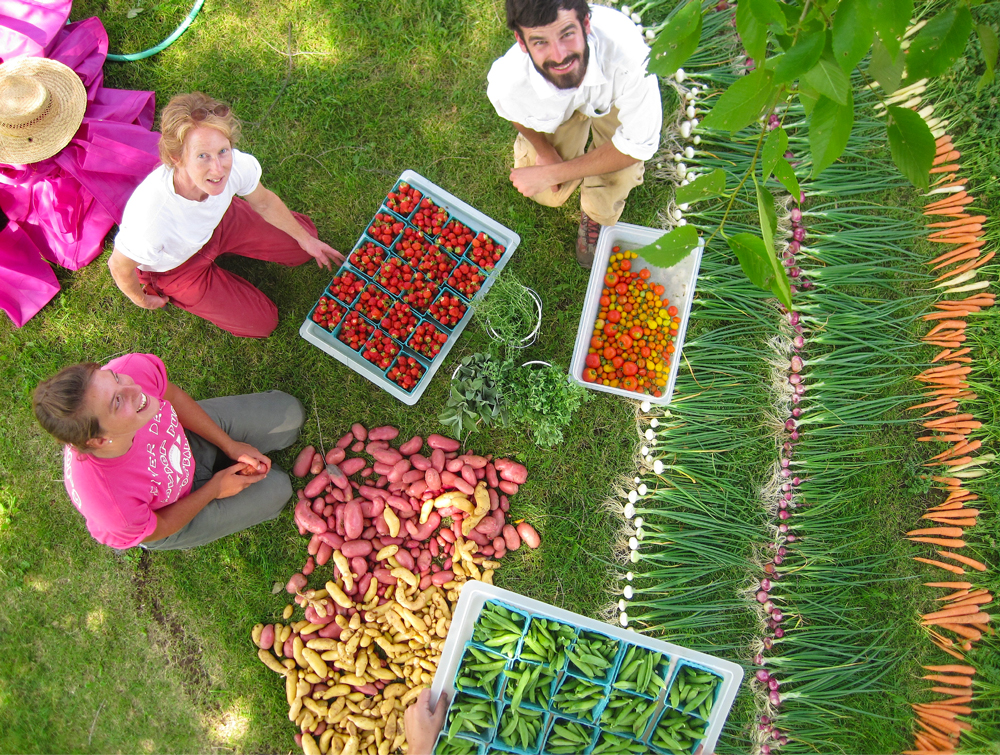 In 2021, we'll continue supplying vegetables for our chef accounts and there will be more flowers, cover crops, and insect habitat to keep the farm's biome happy and humming. If you are a vegetable farmer looking to lease up to 1.5 acres of fertile, organically managed, irrigated cropland for your own business or personal use in 2022, contact Gigi to discuss possibilities.
(click arrows to view slides)
We're continually amazed at the variety and quality of the produce that can be grown in our high-desert climate. Our clients include chefs from the top restaurants in Bend. Greenhouses, row covers, windbreaks and rock walls increase radiant warmth for tender seedlings and extend the productive season. Our animals provide our soil with home-grown fertility that we carefully compost on-site. Crop rotation, cover cropping, companion planting and growing flowers that attract beneficial insects ensure a healthy and vibrant ecosystem. Most Certified-Organic farms have access to a vast array of "approved" pesticides. WE DON'T SPRAY AT ALL and have discovered that after more than 11 years of continually improving our soils, strategic seed selection, and time-sensitive planting; we don't need any amount of toxic chemicals.
Our diverse vegetable offerings include heirloom varieties of tomatoes, eggplants, tomatillos, peppers, lettuces (heirloom, salanova, little gem) asparagus, fennel, European and Asian greens, beets, potatoes, leeks, multi-hued carrots, snow, snap and shelling peas, summer and winter squash, bunching and pearl onions, multi-hued beans, Armenian, pickling and lemon cucumbers, heirloom pie pumpkins – the list goes on and on! We also grow a steady supply of seasonal, fresh herbs, tarragon, thyme, sage, chives, sorrel, Italian parsley, basils, dill, cilantro, lavender, savory and mints. Our edible flower mix is a chef's delight (violas, columbine, dianthus, marigolds, calendula, centaurea, Our fruit plots include apples, plums, strawberries, rhubarb, and heirloom melons.
Why Local? Why Sustainable?
Corporate food-systems and official agricultural policies have long favored extractive, industrial approaches to farming that have had disastrous consequences for environmental and human health. Vast, mono-culture "factory farms" often depend on exploitive labor practices and toxic chemicals. By supporting local farms that are committed to sustainable practices, you can be part of the solution! You'll be protecting our local pollinators, helping to maintain carbon-sequestering acreage right in your backyard while providing healthy, meaningful employment to hard-working farmers and their crews, who are your neighbors. There are ever-increasing options around Central Oregon to procure local, sustainably-grown food by patronizing the restaurants and markets that buy from local farms, joining a local veggie CSA, or buying locally at Farmers Markets.
PLACE OF JOY AND BEAUTY
I am happy to say I have been enjoying the bounty from Windflower Farm since it's inception. The selection of produce is unique and the quality is exquisite. The farm itself is a place of joy and beauty. I am a veterinarian by trade and the care and nurturing of all creatures at Windflower is of the highest standard. This year the farm is offering pigs for sale. These highly intelligent animals are raised in a healthy and natural environment, fed healthy organic foods, and are slaughtered humanely on the farm. I am thrilled to have such an amazing resource available to us here in the Bend area, and would highly recommend taking part!
WINDFLOWER FARM GROWS FANTASTIC PRODUCE IN CENTRAL OREGON
It took me a while to believe that a Bend (Alfalfa) based farm would deliver quality produce for a CSA membership. Having lived here for 13 years, I have heard over and over… "you can't grow tomatoes in Central Oregon". Well, you can. And farmer Gigi Meyer is showing me that we can have a locally based small farm industry. When I joined Windflower Farm's CSA I was so pleased with the bag of food that I received. I love that this farm is a mere 20 minutes from Bend. I know that my food was harvested just hours before I get it. Bok choy, broccoli rabe, squash, tomatoes, strawberries, kale, carrots, beets, onions, turnips, basil, spinach, lettuce, zucchini, green beans, corn, fennel, leeks, cherry tomatoes, eggplant, peppers, scallions, chives, rosemary, oregano, peas, potatoes, and much, much more. I'm pretty sure I got strawberries every week from June on. Thanks to Windflower Farm!
WILLAMETTE VALLEY-STYLE PRODUCE IN BEND, OREGON
In May in Central Oregon the tulips are barely blooming but I'm already getting delicate produce from Windflower Farm. It's astonishing — and inspiring — what a wide variety of vegetables Ms. Meyer can grow in this desert climate. I love the herbs especially; she has enough that I can dry them and use them through the winter. I haven't bought sage or thyme or tarragon or oregano or parsley or mint from the store in years…
The farm itself is beautiful. It's quite small considering how much it produces. In fact it feels like a garden, with winding paths and flowers absolutely everywhere. If you have a chance to visit, do!
WINDFLOWER FLOWER FARM | 26285 Walker Road | Bend, OR 97701
Content copyright 2021. WindflowerFarmBend.com. All rights reserved.